Champix Starter Pack plus 28 1mg Tablets (1 month) | Quit Smoking
Champix Month 1 includes the starter pack and 2 week supply of 1mg tablets required for the first month of the 3 month (12 week) Champix treatment. Champix is a treatment designed to help you give up smoking over a period of 12 weeks.
Treatments start from £95
Champix is a Prescription Only Medicine. Please click on the link below to select your treatment and start your online consultation.
Availability: Out of stock
Description
Details

Champix uses the active ingriedient Varenicline tartrate which helps to reduce withdrawal symptoms and craving after stopping smoking and actually reduces the enjoyment of smoking if you smoke whilst taking the treatment. To maximise the effectivness of the treatment aim for a quit date 8-14 days after you have started the treatment. Champix is proven to double your chances of stopping smoking when taken for 12 week.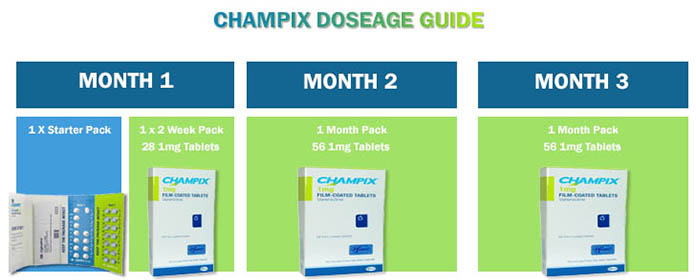 Tablet Strength:
11x 0.5mg / 14x 1mg
Active Ingredient:
Varenicline Tartrate
How to Take Champix:
1 Tablet twice daily

For full details on Champix please click on the patient leaflet below:
Product Information
Details
| | |
| --- | --- |
| Brand | Pfizer |
| Strength | 1mg |
| EAN | 5013457019636 |
| Tablet cost (based on best deal) | £1.42 |
---
How to take Champix:
Champix tablets are taken twice-daily usually for 12 or 24 weeks.
It is best to start Champix with a starter pack so that the dose can be built up slowly over the first 2 weeks.
Start 1 to 2 weeks before target stop date, initially one 0.5mg once daily for 3 days, increased to one 0.5mg tab twice daily for 4 days, then one 1mg tab twice daily for 11 weeks (reduce to one 0.5mg twice daily if not tolerated); 12 week course, can be repeated for a further 12 weeks.
What are the possible side effects of taking Champix?
Although not everyone experiences side effects the most common reported side effects include: gastro-intestinal disturbances, appetite changes, dry mouth, taste disturbance, headache, drowsiness, dizziness, sleep disorders, abnormal dreams.
Who should not take Champix?
People with history of psychiatric disorders or active depression should not take Champix. Some people relapse or experience insomnia and depression for a few days when they stop taking Champix (this can be avoided by tapering the dose down before stopping all together). Some people even feel suicidal after stopping Champix and, although there is conflicting evidence about whether this happens more when Champix is stopped than otherwise, it is best to be forewarned in case there is a need to seek help should this happen.
Ingredients:
Active ingredients: Varenicline
Other ingredients: Cellulose, Microcrystalline, Calcium Hydrogen Phosphate Anhydrous, Croscarmellose Sodium, Silica, Colloidal Anhydrous Magnesium Stearate, Hypromellose, Titanium dioxide (E171), Macrogols, Triacetin, Hypromellose, Titanium dioxide (E171), Macrogols, Indigo Carmine Aluminium Lake (E132), Triacetin
Buying Champix Online:
With Nationwide Pharmacies you can buy Champix online safely and discreetly. If you do not have a prescription please use our free online consultation service to get a private prescription for Champix. Nationwide Pharmacies is a UK registered NHS Pharmacy (GPHc reg: 1105564) and our doctors are GMC qualified to ensure that our patients are given proper advice and that our products are genuine.
FAQs
Details
What is Champix?
Champix is a prescription medicine, produced by Pfizer, available in the UK for people who want to stop smoking.
Does Champix contain Nicotine?
Champix does not contain nicotine. Champix active ingredient is varenicline which acts in a similar way to nicotine.
How does Champix work?
Champix active ingredient varenicline works by stimulating the nicotine receptors in the brain which prevents cravings and relieves the symptoms of nicotine withdrawl. Varenicline also prevents any nicotine inhaled from cigarettes from stimulating the receptors and makes smoking less enjoyable.
Can I buy Champix over the counter?
In the UK Champix is only as a prescription only medicine (POM) and cannot be bought over the counter.
Does Champix have side-effects?
Like all medicines Champix can cause side-effects in some individuals. Common side-effects include changes in appetite, dry mouth, taste disturbance, headache, drowsiness, dizziness, sleep disorders, abnormal dreams.
Can anyone take Champix?
Champix is not recommended for people under 18 years old or for people suffering from mental illness (depression), cardiovascular disease, epliepsy or kidney disease. Champix should slo not be used if you are pregnant or breast-feeding.
Our Service
Details
Prescription Orders:
NationWide Pharmacies Online Doctor service offers a fast and convenient way to order your prescription medication.
Simply follow the steps below:
1. Create your account
2. Select your medical condition
3. Complete the diagnostic consultation form
4. Select your treatment
5. Complete medical questionnaire
6. Complete checkout process and submit your order.
Our doctor will assess your questionnaire within 24 hours. Once your prescription has been approved it will be despatched from our pharmacy.
Delivery:
All orders are dispatched by Royal Mail 1st Class signed for delivery. The vast majority of orders are delivered next day however you should allow for up to 48 hours for delivery. In the case of high value orders we will from time to time use tracked courier services.
Next Day Delivery:
Guaranteed next working day delivery is subject to a delivery charge of £7.50. Orders are despatched by Royal Mail Special Delivery Next Day. Next Day delivery orders need to be placed before 12pm (Mon-Fri). Your order will arrive before 1pm the next working day after it has been despatched.
Saturday Delivery:
Guaranteed Saturday delivery is subject to a delivery charge of £10.50. Orders are despatched by Royal Mail Special Delivery Saturday. All Saturday delivery orders need to be placed no later than 12pm Friday's. Your order will arrive before 1pm on the Saturday.
Reviews