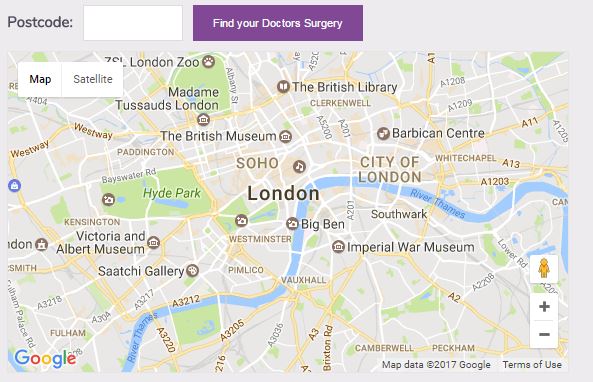 Guidelines for all officially regulated UK online pharmacies now make it imperative that we hold your doctors surgery contact details on file for its customers. However, this doesn't mean that we will contact your Doctor without your permission. In the instance you do not wish us to contact your doctor then we are happy to oblige by your request. We have attempted to make it as simple as possible for you to provide your Doctors details.
To do this follow these steps as demonstrated in the image below. Go to the Doctor's details section on the account information page
1. simply enter your postcode in the search box below and click the "Find Local Doctors Surgeries" button
2. Click on your surgery in the list that appears or on the google map and
3. Your doctor's surgery details will populate on the right-hand side of the Google map. In the event your Doctors surgery doesn't appear when searched for, you can type the details in manually
4. Declare whether you give us permission to contact your Doctor
5. Scroll to the bottom and click 'Save'
If your Doctors details do not appear after the first search, try zooming in on the specified location using the + sign at the bottom right hand of the Google map.