Top 7 Home Remedies for Female Facial Hair Removal


1. Papaya
Papaya contains papain which is an enzyme that breaks down the hair follicles preventing them from re-growing more hair. Applying Papaya to your face will help get rid of facial hair growth, making it easier for you to control including your chin, sideburns and moustache area.


2. Turmeric
Turmeric makes the Papaya more effective and contains stable compounds which will help to kill off the hairs preventing hair growth.
How Papaya and Tumeric Works in Preventing Female Facial Hair Growth:
1. Use a spoon to scoop out a few chunks of raw papaya flesh
2. Add in half a teaspoon of turmeric powder, use a fork to mash and mix the ingredients together leading to a thick paste formed.
3. Using your fingers apply the paste to the areas of facial hair.
4. Massage your skin gently ensuring the paste is absorbed into your hair and skin.
5. Leave it for 15 minutes before washing it off with warm water.
6. Repeat this process once every two weeks, until you notice your facial hair disappearing.


3. Homemade Wax
This helps prevent female facial hair growth.
How Homemade Wax Works in Preventing Female Facial Hair Growth:
1. Pour two table spoons of sugar into a microwave safe bowl or container and add a table spoon of honey and water in each.
2. Place the mixture into the microwave for 30 seconds, or heat it up in a double boiler on the stove.
3. Boil it until the sugar dissolves and mixes with the liquids leading to a thick, waxy substance.
4. Use a spatula or wax applicator to stir the wax and apply it to the facial hair areas.
5. Place a strip of cloth over the freshly applied wax, let it cool for a couple of seconds, then pull.
6. The wax will then rip out of your hair leaving your face fresh and clean.
7. If the homemade wax cools, place it back in the double boiler or heat it in the microwave for up to 5 to 10 seconds.
8. Repeat this process until you notice facial hair disappearing. Or you can buy your own wax if you prefer.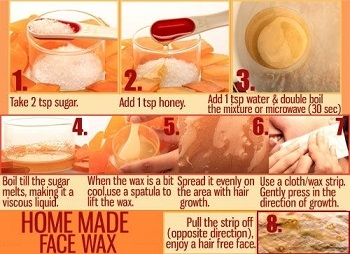 4. Sugar
This is an effective method just like waxing.
How Sugar Works in Preventing Female Facial Hair Growth:
1. Place a quarter cup of water in a stockpot or saucepan, and place the pot on a stove.
2. Once the water is hot, add ¼ cup of lemon juice and 2 cups of regular table sugar (white or brown)
3. Mix and continue heating until the mixture begins to bubble, and then turn the fire to low and let it simmer.
4. Turn it off once the mixture turns an amber colour and then remove the pot from the stove and let it cool slightly.
5. Whilst the mixture is cooling, apply a dusting of baby powder or corn starch to your skin to help prevent the mixture from sticking to your skin reducing irritation.
6. Apply the paste to your face, going in the opposite direction of the facial hair.
7. Place a cotton strip or a clean cloth over the paste.
8. Leave this for a few minutes until the paste is hardened.
9. Rip it off by pulling it in the direction of your facial hair. Repeat this process until facial hair is removed.


5. Egg White Mask
Eggs contain protein which is healthy for your skin as they provide the nutrients your skin needs to produce collagen, keeping it fresh and young. An egg white face mask will stick easily to any facial hairs especially when it dries.
How Egg White Mask Works in Preventing Female Facial Hair Growth:
1. Drop the white of 1 egg into a bowl and mix a tablespoon of regular table sugar and half a tablespoon of cornstarch.
2. Beat the mixture until the paste is nice and smooth.
3. Apply the paste to your face, leave it for a few minutes until dry.
4. The paste will then harden into a thick face mask which you can grab and rip off.
5. Be careful when ripping the hair off do it fast but gently and it will pluck the facial hairs out.
6. Repeat this process until you notice facial hairs removing completely.


6. Tweezers
This is another method of facial hair removal for women. This involves tweezing, or pulling the hair out with tweezers, it is a simple, cheap and effective way of removing facial hair from any affected area of the face.


7. Threading
This is another easy method of facial hair removal for women. This involves removing hair from your brows, lips or face in general. This method is simple and easy to learn, painless. You can even go into a local salon if necessary.
If none of these home remedies work then a prescription product called Vaniqa is available containing an active ingredient eflornithine as hydrochloride, which penetrates to the base of the hair follicle. This reduces new growth by acting on an enzyme that plays a role in hair growth.