Contraceptive Pill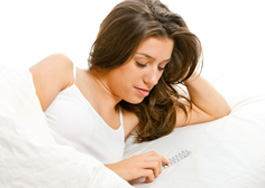 Female Contraceptive Pill
Why use NationWide Pharmacies?

FREE Private Prescriptions

FREE Delivery

GMC Registered UK Doctors

MHRA & GPhC Registered

CQC Regulated & Approved with 'Good' rating

5* Trust Pilot rating
Welcome to our Female Health treatment service
Prior to filling in your diagnostic consultation we strongly recommend you read our Contraceptive Pill dispensing policy page.
Online Pharmacy guidelines require us to diagnose a condition before offering prescription medicines to a patient. Here at NationWide Pharmacies, our doctors have been working hard to develop an online diagnostic service.
Once your online diagnosis is submitted you will be able to purchase your prescription treatment and place as usual. Three months from the date of your diagnosis you'll be prompted to complete a medical review form to monitor your progress on the treatment and renew your free private prescription if necessary.
The oral contraceptive pill is the most common type of contraception used in the UK and is used by over 100 million women worldwide.
Commonly known as the 'Pill' it has been proven almost 100% effective as a form of birth control. The pill is available as either a combined pill, containing progesterone and oestrogen hormones or as a 'mini pill' which only uses the progesterone hormone.
NationWide Pharmacies provide a range of combined and mini-pill treatments to ensure you are properly protected. Our free consultation service is discreet and confidential and can be done from the comfort of your own home. All consultations are reviewed by our GMC registered doctor and treatments are delivered directly to your door.
Combined Contraceptive Pill
The combined Contraceptive Pill (The Pill) is the most common female birth control method used in the UK. Combined Pills contain synthetic

versions of the female hormones oestrogen and progesterone

and provide almost 100% protection against unwanted pregnancy. The Pill works by preventing sperm from reaching the egg and by preventing any fertilised eggs from attaching to the wall of the womb.





Available Products: BiNovum, Brevinor, Cilest, Femodette, Femodene, Femodene ED, Logynon, Logynon ED, Marvelon, Mercilon, Microgynon, Microgynon ED, Norgeston, Norimin, Norinyl, Ovranette, Ovysmen, Qlaira, Synphase, Triadene, TriNovum, Yasmin
Mini Pill (POP)
Mini Pills, also known as progesterone only pills, only use the synthetic version of progesterone. This version of the pill is more suitable for women with sensitivity to Oestrogen and for women who are over 35 and smoke, are overweight, or who are breastfeeding.





Available Products: Cerazette, Femulen, Micronor, Noriday
How does the contraceptive pill work?
The oral contraceptive pill prevents unwanted pregnancy by stopping the ovaries from releasing eggs. The pill also causes a thickening of the vaginal mucus, preventing any sperm from reaching the womb, as well as causing the wall of the womb to thin so any fertilized egg cannot attach and develop.
Types of Contraceptive Pill:
There are four main types of Pill available in the UK:
Monophasic: This is the most common version of the contraceptive pill. Each pill contains the same amount of hormone and are taken as a course of 21 pills followed by a 7-day break. Examples of this type of pill include Microgynon, Brevinor and Cilest.

Phasic: Phasic versions of the pill have 2 or 3 different types of pill which contain different amounts of the hormone. The pill is taken for 21 days followed by a 7-day break. Examples of these phasic pills include Logynon and Binovum

Everyday Pill (ED): Everyday pills are taken every day without a break between packets. The course contains 21 active pills followed by 7 inactive pills. Examples of everyday pills include Logynon ED and Microgynon ED

Mini Pill (POP): The Mini Pill, or progestogen-only pill (POP) is a lower strength version of the pill and only contains one hormone, a progestogen. As it does not contain Oestrogen, which is responsible for most side effects, it can reduce the risk of dangerous side effects.
Side Effects of Taking the Pill:
There are risks associated with using the combined contraceptive pill, such as blood clots, although they are not common. For most women, the benefits of the pill far outweigh the risks. Side effects are also uncommon but can include temporary tenderness of the breasts, nausea, headaches and mood swings. It is common to have to try a few different types of the pill before you find the right one for you.
Five important things to know about the Pill.
The Pill is a reliable contraceptive and may reduce your risk of cancer of the ovary and womb if used in the long term.
The Pill will not protect you against sexually transmitted diseases.
This medicine can increase your risk of problems such as blood clots and breast cancer.
Some women should not take the Pill because of current medical problems or illnesses. Please read this leaflet to make sure Triadene is right for you.
To prevent pregnancy it is important to take Triadene as instructed and start each pack on time. Please make sure that you understand what to do if you miss a pill or if you think you are pregnant.
Video: Types of Contraception
In this video, there is expert advice for teenage girls about what types of contraception are available and where they can find the right kind to suit them.