About Us
Need help translating this page? Try Google Translate
Our Vision
At NationWide Pharmacies our mission is to supply a professional, cost effective, healthcare service that delivers treatments to our customers quickly, efficiently and discreetly without the inconvenience of having to visit a doctor. NationWide Pharmacies has been a leading UK provider of NHS and private prescription treatments for various body conditions including erectile dysfunction (impotence), hair loss and weight loss since 2010. Additionally, we also provide private prescriptions for pain relief, quit smoking treatments as well as for anti-malaria tablets and the female contraceptive pill.
Our Service
NationWide Pharmacies delivers directly to your door using the Royal Mail delivery services. We currently deliver to the United Kingdom only.
***Please note we do not deliver to the USA and currently do not ship any medication outside of the United Kingdom***.
We provide a discreet service with excellent after-sales service. Your order is dispatched in plain packaging clearly marked Private and Confidential. Our site is secure and protected by the most up to date encryption methods, which means that your personal information, credit and debit card details are 100% secure with us.
If you require a private prescription our UK GMC registered doctor, following a successful online consultation, will provide you with a private prescription completely free of charge (Please note online consultation is only available for suitable prescription medicines). This service usually takes no more than 24 hours so if you complete a successful online consultation today your requested medication will be dispatched tomorrow. To complete our free consultation you will need to open an account, there is no cost involved and it only takes a matter of minutes. Then you will be able to complete a free consultation for your medication. Click here to open an account.
You the customer are our most important asset as such we always strive to provide customer services that are truly second to none. If you are happy with our service please tell your friends, If not please tell our customer service manager by emailing customerservices@nwpuk.com or telephoning our customer service line Monday - Friday (excluding bank holiday's) between 8:45 am and 5:45 pm GMT UK tel: 0333 6000 343 EU tel 00 44 1494 463565 Fax: 01494 445955
Click the below icon to view our pharmacy practice leaflet.

UK Regulated Pharmacy
As a UK registered pharmacy you can be assured that all of our products are genuine and of the highest quality. Our superintendent pharmacist is Ms Anjulie Kawol who is highly experienced in providing pharmacy services to the community including the highly skilled area of providing services to Care Homes and their patients. Anjulie supervises all of our pharmacy services and directs our highly trained staff which includes qualified UK pharmacists who are set up to dispense your NHS and or private prescriptions quickly and accurately and then delivering your medication direct to your door anywhere in the UK. All orders are checked individually and our doctor or pharmacist may require further information if they feel the customer is ordering excessive quantities of medication. Our pharmacists reserve the right to refuse medication if they feel the items are being misused or if there is a risk to patient safety. Customers can verify our registration details with the General Pharmaceutical Council.
E.U. Regulated Pharmacy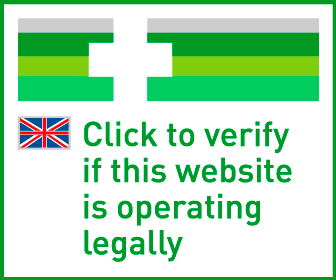 As we are an E.U. regulated pharmacy you are further assured of our credentials. This E.U. regulation came into force on the 1st July 2015 it requires by law all pharmacies selling medicines to the public in any E.U country to be registered to display the European common logo.
The EU common logo is now a legal requirement across the whole of the E.U. the way it works is, each E.U. country has a responsible body that will monitor and control the registration process in their country. In the UK the Medicines and Healthcare Products Regulatory Agency (MHRA) see contact details below. The MHRA are responsible for vetting online pharmacies such as ourselves to ensure they are operating legally and supplying genuinely licensed medicines. Once they have approved a pharmacy that pharmacy is added to the Medicine Seller Register and the European Common Logo is linked to this register so you can check that the online pharmacy you are dealing with is genuine.
As a genuine online provider of pharmacy services and medicines NationWide Pharmacies Ltd applaud this latest move by the E.U. which will help to further stamp out counterfeiters and criminal internet sites, making the internet a much safer environment for us all.
MHRA Contact Details:
MHRA 151 Buckingham Palace Road, London SW1W 9SZ
Email info@mhra.gsi.gov.uk
Telephone 020 3080 6000
Fax 020 3118 9803
Website: http://medicine-seller-register.mhra.gov.uk
Please note: At present we are only able to ship prescription medication to the United Kingdom until further notice.
Company Information
NationWide Pharmacies Limited is a registered pharmacy in the United Kingdom and we abide by all the regulations pertaining to the correct supply of medicines according to English and EU Law. We also provide a distance consultation service that is overseen by our Chief Medical Officer Dr. Nigel A. Savage MB ChB. This service is registered with and supervised by the Care Quality Commission.
Registered Pharmacy Name: NationWide Pharmacies Limited
Address: Unit 1, Riverside Business Centre
Victoria Street,
High Wycombe
HP11 2LT
Buckinghamshire
Registered Company No: 07351582
VAT Registration No: GB998313864