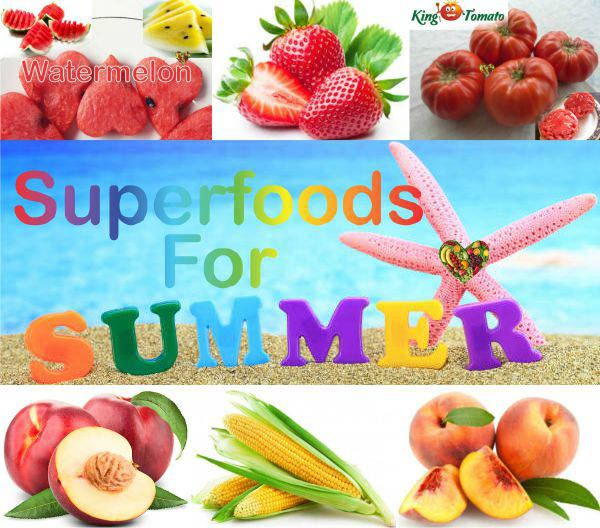 Top 8 Summer Super Foods


1. Summer Fruits
Berries: Cherries, strawberries, blueberries, oh my! Summer berries come in a variety of colors and offer many healthful benefits. Cherries are rich in potassium, strawberries are full of vitamin C, and blueberries contain flavonoids, a type of antioxidant that supports total health. You can also drink summer fruit juice (mixed juice or squash). You can also have berries in smoothies, summer smoothies which are very common during the summer season to keep yourself healthy hydrated.
Peaches: A sweet and juicy summer staple, peaches are rich in vitamin A, which supports eye, immune, and skin health.
Lemons and Limes: Lemonade and limeade are a seasonal favorite. Not just a way too cool off in the heat, lemons and limes also provide nutritional benefits. Both are a good source of vitamin C, an essential vitamin that supports bone and immune health.
Kiwi: Their green flesh is sweet and tangy. It's also full of nutrients like vitamin C, vitamin K, vitamin E, folate, and potassium. They also have a lot of antioxidants and are a good source of fibre.



2. Watermelon
Watermelon is a staple food for summer picnics. With about 92 percent of its weight coming from water, watermelon contributes to fluid intake to help keep the body well hydrated. By staying hydrated, you can keep your memory sharp and your mood stable. Also, watermelon provides plenty of antioxidants including vitamins A and C and lycopene, which help reduce risk of complications from diabetes, cardiovascular disease, cancer, high blood pressure, macular degeneration and arthritis.To keep your body cool and well hydrated during the hot summer months, munch on fresh watermelon daily. The refreshing and sweet taste of watermelon is delicous and suitable for all.



3. Mango
Readily available throughout the summer season, mango's soothing and cooling effect will keep you energized during the hot summer days. Plus, mango is rich in vitamins A, C and E that are essential to maintain good health. You can eat both ripe and unripe mango to beat summer heat. Eat ripe mango as a fruit snack or add the pulp to milk or yoghurt and blend it for a tasty smoothie.



4. Cucumbers
Cucumbers are another ideal cooling summer food. They have high water content and help keep your body cool and refreshed. The enzyme called erepsin found in cucumbers helps keep the intestinal tract healthy. This improves digestion and is especially helpful in summer, when people complain a lot about poor digestion. Plus, cucumbers contain vitamin C that helps protect the skin from ultraviolet (UV) sun rays and prevents wrinkles, sun damage and more. Enjoy a plate of cucumber salad as a cool and crunchy snack. You can even have cucumber juice or smoothie during the summer days.



5. Coconut Water
Coconut water, the purest liquid after water, is one of the important healthy foods to have during hot summer days when people lose a considerable amount of water due to perspiration. This natural, refreshing beverage is packed with simple sugar, electrolytes and minerals that help replenish hydration levels within the body. A glass of coconut water can easily restore the electrolyte composition in body fluids. Plus, it can aid in losing weight as it is low in fat, cholesterol and chlorides. It reduces food cravings and keeps a person feeling full. Stay hydrated with coconut water this summer. Drink coconut water on an empty stomach in the morning to protect your lungs, eyes, kidneys and blood circulation from the effects of heat.



6. Tomatoes
Available in a wide variety of shapes and sizes, tomatoes are a nutritious and delicious addition to any summer meal. One medium tomato is approximately 95 percent water and helps keep the body hydrated. Tomatoes are also high in lycopene, a phytochemical that has potent antioxidant properties that protect your skin from harmful UV rays. Other vital nutrients in tomatoes include potassium, folate, dietary fibre, manganese, magnesium, niacin, and vitamins B6, C, A, K and E. Add fresh tomatoes to salads, sandwiches or soups to keep yourself healthy year-round. You can also drink tomato juice or blend it into a smoothie.



7. Corn
A cup of freshly boiled corn is a healthy summer treat. Rich in two powerful antioxidants known as lutein and zeaxanthin, corn helps protect your skin against the sun's harmful UV rays. These antioxidants also reduce the risk of developing age-related macular degeneration. Corn also contains thiamin and folate that provide energy to the body. Plus, corn has vitamin B that lowers stress and cholesterol levels. A bowl of corn soup, a plate of corn salad or simply boiled corn, you can include corn in your meal plan in different ways.



8. Greek Yoghurt
Greek yoghurt is perfect in the summer for cooling the body and helping disperse body heat. Along with protein and calcium, Greek yoghurt contains probiotics, the beneficial bacteria that keep your digestive system running smoothly as well as boost immunity and prevent yeast infections. Greek yoghurt can even help you slim down due to the unique protein and carbohydrate combination it offers. You can eat a cup of Greek yoghurt for a refreshing summer treat. You can also top it with fresh strawberries or raspberries for a tasty dessert.