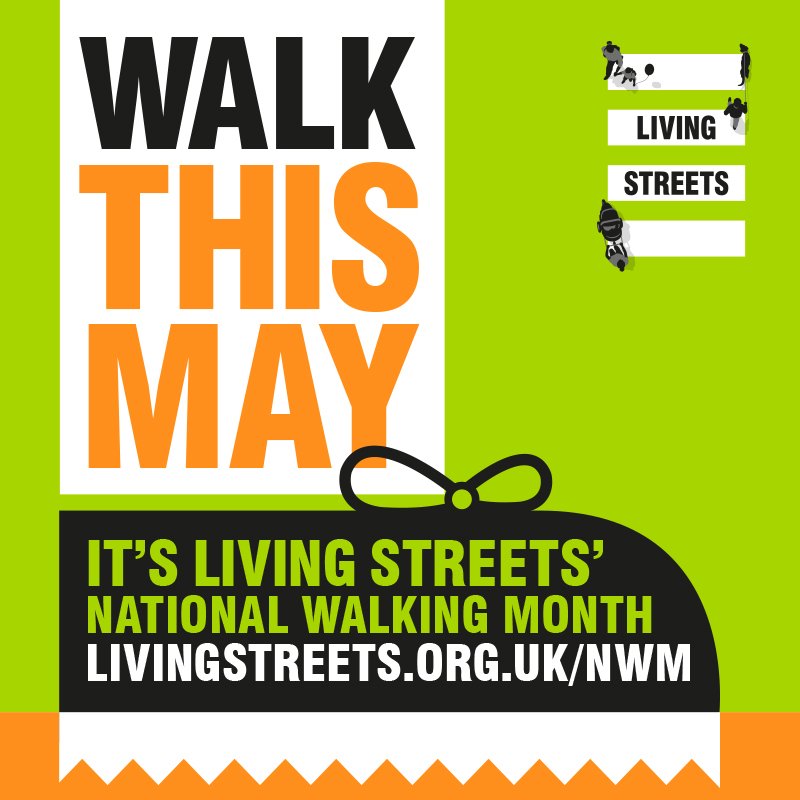 National Walking Month
This Month Is National Walking Month which is taking place in May 2018 with the purpose During May to see as many people as possible give walking everyday journeys a go, and there are loads of ways to take part. This is to help raise awareness and encourage people to walk more of the health benefits of walking. This campaign is run by a UK charity Living Streets.
Living Streets are a UK charity for everyday walking.They strongly believe in creating a walking nation, free from congested roads and pollution, reducing the risk of preventable illness and social isolation and making walking the natural choice. They also believe that a walking nation means progress for everyone. Their ambition is to get people of all generations to enjoy the benefits that this simple act brings and to ensure all our streets are fit for walking. They are a dedicated group of professionals and volunteers, wanting to work with others to engineer walking back into their lives. https://www.livingstreets.org.uk/who-we-are/our-organisation
How can you get involved with National Walking Month?
Track your walking with the Public Health England Active10 App
Rate Your Walk share your story about your everyday walk to help create a walking nation across the UK.
Wear shoes that make you happy to fundraise the campaign on Tuesday 22nd May 2018
Spread the word on social media
Walking Cities Get walking! and encourage others instead of using public transport walk more
Fundraising
Make A Donation
Take their walk to school week pledge
Useful Sources Include
https://www.walkingforhealth.org.uk/
https://www.nhs.uk/news/2017/08August/Pages/10-minute-walk-a-day-app-launched-to-tackle-inactivity-epidemic.aspx
https://www.nhs.uk/Livewell/getting-started-guides/Pages/getting-started-walking.aspx
https://www.nhsinform.scot/healthy-living/keeping-active/activities/walking
JUST WALK on the 12th May 2018 is a unique charity challenge where you can walk to raise money for any charity of your choice or take on a personal challenge – and it ties in perfectly with National Walking Month! Just Walk is Across the Divide's own charity walking challenge which allows individuals to raise money for a charity of their choice or simply for a personal goal. It doesn't matter what the reason is for signing up, from a seasoned pro to a walking newbie, every attendee is given the full 'Just Walk' support and advice leading up to the big day and throughout the event
What are the main health benefits of walking?
• Improves your heart health
• Great exercise to help you lose weight and helps keep you active
• Helps to regulate blood pressure
• Helps to fight off cancer
• Improves circulation
• Strengthens muscles and bones
• Improves digestion
• Boosts immunity
• Increases lung capacity
• Reduces stress
• Increased productivity
• Social confidence